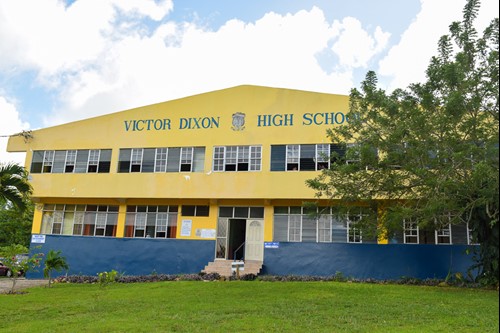 ​
Victor Dixon High School, a Seventh-day Adventist Institution, is among nine Seventh-day Adventist high schools in Jamaica. Similarly, there are nineteen Seventh-day Adventist elementary schools in Jamaica and one Seventh-day Adventist University – Northern Caribbean University.
​The school began in 1901 when requests were made to the General Conference to establish secondary education for the church in Jamaica. As a result, in 1907 the Riversdale School was established. The principal appointed was C.B. Hughes and on the premises the school began with 36 students and 6 teachers. Unfortunately, the school was closed in 1913. Sixyears later, in 1919, the Riversdale School was reopened in Mandeville on a 171 acres of land called the Cedar Grove property. The school was called West Indian Training School, and it was consisted of 21 students. By 1923, the school held its first graduation with three students gaining High School Certificate.
​The school experienced growth and development under the principalship of C.B. Hughes.Buildings started going up such as the farm, Great House, offices and classrooms. A new principal later came on board called Wineland. Hereafter, the population of the school expanded, consisting of students from the wider Caribbean, Central America, United States of America and England.
​From the start the school was established as a character building agency. The Bible held supremacy as the inspired word of God and was given a prominent place in the curriculum. Discipline was also a hallmark. The school implemented a work and study programme, which provided an avenue for students to fund their education.
​In 1924 the school's status changed from Academy (high school) to Junior College which had 14 grades. The name was then changed to West Indies Training College. In 1958 the name was changed to West Indies College. The high school section remained at that Cedar Grove property and was called West Indies College High. Decades later, in 1999, the college received university status and was renamed Northern Caribbean University. At the renaming of Northern Caribbean University, the high school was moved to its current location on May Day Main Road.It was also renamed Victor Dixon High School after one of its patrons and stakeholders, Victor Dixon. It currently remains a lab school of Northern Caribbean University but is governed as a member of the JISA (Jamaica Independent Schools Association).